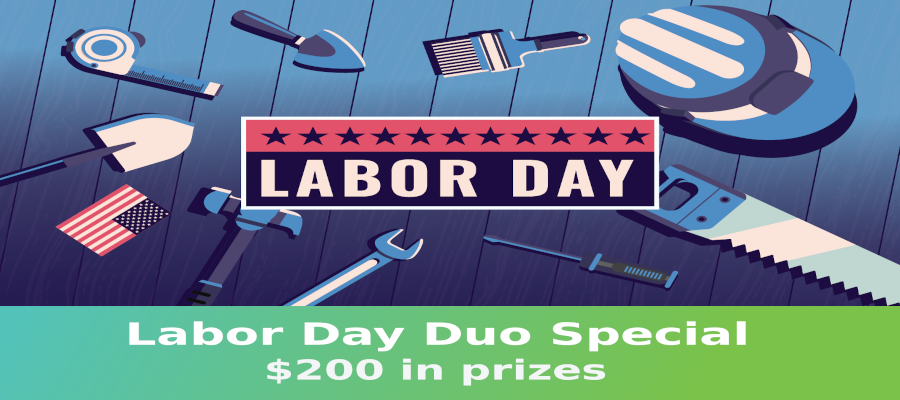 For this Labor Day we are doing something special. We've got two contests, one stock and one crypto, and while the stock has our standard payout we've decided to do something a little special for our crypto contest.  Check out the conditions below for our crypto prize payout, our hope is to get more people investing and what better way to jump start your portfolio than by winning some crypto currency of your own!
We hope you all enjoy these contests this Labor Day now go out there and Get Your Share!
Contest Terms and Conditions Disclaimer
Eligibility: This contest is open exclusively to residents of the United States.
Agreement: By entering this contest, participants agree to abide by these conditions and the Terms of Service set forth by MarketDraft.
Disqualification: MarketDraft holds the authority to disqualify any entrant for any breach of these terms or other reasons deemed appropriate.
Prize Structure:

The cash alternative for prizes is specified as:

1st: $50
2nd: $30
3rd: $20
4th-6th: $10 each
7th-10th: $5 each

Prizes will be awarded in the form of $XRP coins as:

1st place: 100 $XRP coins
2nd place: 70 $XRP coins
3rd place: 40 $XRP coins
4th-6th place: 20 $XRP coins each
7th-10th place: 10 $XRP coins each

Liability: MarketDraft is not accountable for lost, stolen prizes, or the fluctuation in the value of prizes. Furthermore, MarketDraft assumes no liability or interest in any legal or financial aspects linked with the XRP coin or any DeFi wallet.
Release: Prize winners agree to absolve MarketDraft from any liabilities related to the prize.
Informational Disclaimer
Cryptocurrencies like XRP are volatile, and values can shift drastically.
Before investing in any cryptocurrency, ensure you are aware of the risks and conduct independent research.
MarketDraft does not furnish financial counsel and assumes no liability for losses from cryptocurrency investments.
Questions? Reach out to MarketDraft at support@marketdraft.com for any queries.
Additional Details
Contest Duration: Contest entry begins August 31 and it will start and conclude on September 4th, 2023.
Entry Requirements: Entrants must be registered on MarketDraft with a verified email. Participation can be initiated from the MarketDraft lobby.
Wallet Requirements: Winners should possess a cryptocurrency wallet to receive prizes, including but not limited to Crypto.com, Coinbase, MetaMask, and TrustWallet.
Prize Valuation: As of 8-31-2023, 1 XRP was valued at $0.52 USD. The cash value of prizes will be recorded in winners' annual MarketDraft winnings. Withdrawals exceeding $250 may require a social security number, and any user accumulating over $600 annually will necessitate a 1099-MISC tax form from MarketDraft.
Prize Claim: Winners have a 30-day window to claim their prizes. Any unclaimed prizes after this period revert to MarketDraft's ownership.
Affiliation Disclaimer: XRP and Ripple have no association with this contest.